UGent Data Science Seminar with Dr. Arpit Mittal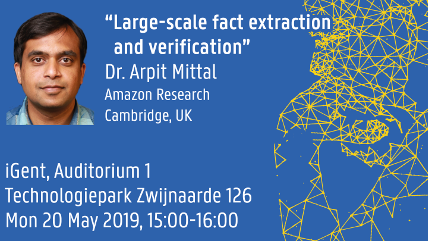 Dr. Arpit Mittal (Amazon Research Cambridge): Large-scale Fact Extraction and Verification
Abstract
With billions of individual pages on the web providing information on almost every conceivable topic, we should have the ability to collect facts that answer almost every conceivable question. However, only a small fraction of this information is contained in structured sources (Wikidata, Freebase, etc.) – we are therefore limited by our ability to transform free-form text to structured knowledge. There is, however, another problem that has become the focus of a lot of recent research and media coverage: false information coming from unreliable sources. In this talk I will talk about our recent work on fact extraction and verification. I will also present the new publicly available FEVER dataset we built for this task. Finally I will discuss top entries from the FEVER challenge and its new variant FEVER 2 based on 'Build it, break it, fix it' paradigm.
Bio
Dr. Arpit Mittal is a Senior Machine Learning Scientist at Amazon Research Cambridge. He is currently working on projects involving knowledge extraction, information retrieval and question answering. Before joining Amazon, Arpit worked on augmented reality (AR) and made fundamental contributions to an industrial AR SDK: Vuforia. He received his PhD from the University of Oxford in Computer Vision and Machine Learning. Within Amazon, Arpit manages the research internship program for their Cambridge UK office.
Coffee and tea will be served after the seminar.
Location and time
Monday, May 20, 2019 15:00 PM to 16:00 PM at iGent, Auditorium 1, Technologiepark-Zwijnaarde 126, Ghent